Special Offer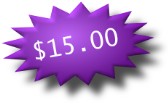 Personal Web Page for only $15.00!
With this limited time offer have your own personalized web page created and hosted for only $15.00 (USD). With the option to have your own custom domain name created.
Offer Expires: May 30, 2010.
What can I do with my personalized web page?
Tell that special someone how much you care. Example
Give your business an online presence.
Put your resume online.
Show off your family newsletter.
AND MORE! (See out porfolio page for more ideas.)
How can I get in on this offer?
What are the limitations?
This offer is limited to the creation and hosting of one (1) web page. This web page will be hosted until the client requests its removal and/or, in the case of the creation of a custom domain name, until the domain expires. Creation of custom domain name may incure addition charges. Request for this offer must be submitted before the May 30, 2010. In the case of mailed request, the letter must be post marked before said date. This offer can not be combined with other offers or promotions.
Promo Code: 032315