Attractions
Chile offers many attractions and activities for everybody.
For the Adventurous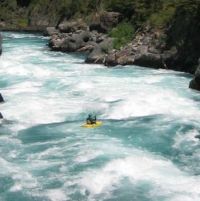 Kayaking
For those looking for adventure Chile has many fine locations for SCUBA diving that have been largely undisturbed by other divers. Also, due to the Andes mountains, there are thousands of places to go mountain and rock climbing. Many of these locations are virtually untouched and offer beautiful scenic views. Or you could take to the skies and go para-gliding. You could also go white water rafting or kayaking on many of Chile's world class rapids.
Nature
For those looking to enjoy nature there are many places for hiking and backpacking, along with many places to go horseback riding or mountain biking. You could also go wildlife watching. Or you could try your hand at catching some wildlife and go fishing. In the sea you can find tuna and sea bass, and in the fresh water you can find salmon and carp along with many other species of fish.
Water
If you enjoy the water you can try relaxing at one of the many hot springs that run the length of the country. You could also visit one of the many beautiful lakes or rivers and go canoing. Or, you could head to the beach and enjoy swimming, or just lay out in the sand. You could even go surfing.
Educational

Santa Lucia
If you are looking for something more intellectually stimulating, you could head to the north to do some stargazing. The skies in the north of Chile are reportedly the clearest in the world, hence the many observatories found their. Or, you could visit one of the many museums or historical sites. Maybe you could go and visit the home of Gabriela Mistral or Pablo Neruda, both of whom won Nobel prizes for their literature and poetry. Wine connoisseurs can visit one of the many vineyards.
Skiing

Many people come mostly for the snow skiing which is widely regarded as the best in South America and some of the finest in the world. This recognition is due to the excellent slopes, high quality resorts, beautiful scenery, and the ski resort's proximity to major cities. Due to the height of some of ski slopes many resorts are able to offer skiing nearly year round. The resorts also offer all the amenities you would expect from a resort in the United States. And, due to the unique geography of Chile, when you get tired of the cold snow, the beach is only hours away.
Learn More
•

Back To Top